News Archive
BQCL Christmas Office Hours
Blue Quill Community League will be closed for the Holidays starting on December 25, 2017, and will re-open on January 8, 2018.
Should you need to reach the office, please email bqcladmin@bqcl.org.
Thank you and Happy Holidays!!
Drop In Craft and Sensory Play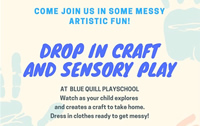 Every Monday and Wednesday, from November 20th until December 20th, bring a food bank donation and join us in some messy, artistic fun!
Drop in Craft and Sensory Play at Blue Quill Playschool!
Watch as your child explores and creates a craft to take home. Dress in clothes ready to get messy!
From 12:30 - 2 pm.
Vendor Fair Registration 2017
The Blue Quill Fall Market is being held on Saturday, December 9, 2017, at the BQCL hall from 10:00 a.m. to 3:00 p.m. If you have products that you make or from a home-based business, then this is the market for you. There are up to 24 tables available at this vendor fair and we want to ensure there is a variety of products so only one vendor per company will be permitted - first come, first served.
If you would like to reserve a table, download our vendor application.
If you have any questions about the event or the status of your registration, then please contact Kathryn at bqcladmin@bqcl.org or leave a message at 780-438-3366.
Blue Quill Vendor Fair and Kids Xmas Party!
Date: December 9, 2017
Time: 10am to 3pm
Welcome Everyone!
Come do your shopping while your kids do crafts and visit with Santa from 11am-2pm!
Cookie decorating and crafts for the kids!
We will also be collecting for Santa's Anonymous at this event.
Click here to view the poster.
Engage Edmonton - Share Your Voice
Share your voice on important topics. The City of Edmonton is excited to provide fun and coordinated Engagement Events. Join us to discuss 11 unique topics over five evenings, across the city, in November and December.
November 14, Southwest Edmonton
Blue Quill Community League (11304 25 Ave NW)
November 16, Southeast Edmonton
Mill Woods Town Centre Mall (2331 66 Street NW)
November 23, Northeast Edmonton
Archbishop O'Leary High School (8760 132 Ave NW)
November 30, Northwest Edmonton
Crestwood Community League (14325 96 Ave NW)
December 7 , Downtown Edmonton
Edmonton Tower Main Lobby (10111 104 Ave NW)
Free food and warm beverages, Les Bucherons Maple Sugar Shack, children's programming and much more will also be onsite for our event!
If you would like to attend one of theses events and need help getting to the location, please contact (780) - 442 - 4382.
For more information visit: edmonton.ca/publicengagement
Let us know you're coming, find us on Eventbrite: engage-edmonton.eventbrite.ca