News Archive
Senior's Pancake Breakfast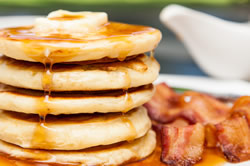 Celebrate Seniors Week with a free Senior's Pancake Breakfast on Tuesday, June 6 from 9 - 11 am. The event will be hosted at the Blue Quill Community Center (11304 - 25 Ave). Sausages, pancakes, juice and coffee are sponsored by the Southwest Edmonton Seniors Association (SWESA), Southwest Area Council (SWAC) and your Southwest community leagues.
Email Carol or call 780-434-7558 for additional information.
BQCL Garage Sale
Join us at our annual BLUE QUILL COMMUNITY GARAGE SALE
Saturday, May 6, 2017
10 AM to 3 PM
11304- 25 Ave
We will have a variety of pre-loved goods for sale. There is sure to be something for everyone!
Spring cleaning? Rent a table for $30. Call 780-438-3366 or bqcladmin@bqcl.org.
Minor Softball
Do you have someone who is interested in playing minor softball this spring? Southwest Edmonton Minor Softball is looking for players. Please
visit our softball page
for information on fees and requirements or
go to semsa.ca
to register.
Meet Dr. Christopher Lyddell, Rheumatologist
Blue Quill Community League welcomes Dr. Christopher Lyddell MB. Ch.C(UCT), DA(SA), FCP(SA) Rheumatologist.
When: Wednesday, March 22, 2017 11:30am
Where: 11304-25 Avenue
Please join us to meet and consult with Rheumatologist, Dr. Lyddell at this free event.
2017 Outdoor Soccer Registration
Registration for outdoor soccer 2017 will be held on Wednesday, Feb 15 from 6 - 9pm and Saturday, Feb 25 from 10am - 1pm. Please visit our soccer page for information on fees and requirements.