News Archive
Free Karate Trial Class
Join us for a free trial karate class on Wednesday, September 14th at 7pm in the Blue Quill Community Hall. We welcome beginners and returning students, adults, children and families. Visit our
karate page
for more information on our classes.
Party in the Park 2016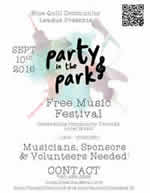 Join us on September 10, 2016 from 11 am - midnight for our annual Party in the Park Free Music Festival celebrating community through local music.
Musicians, sponsors and volunteers needed. Please contact 780-438-3366 or musicfestival@bqcl.org.
For more information, visit the Party in the Park 2016 website.
Note: We have the loft booked for a basic face painting training session for Party in the Park volunteers from 7-9 PM on Tuesday, August 16. Free, but preregistration required. Please preregister by contacting us at 780-438-3366 or bqcladmin@bqcl.org.
BQ 3 on 3 Basketball Tournament
Gather your team and come get your game on with the first ever Blue Quill Classic Basketball Tournament. This is a 3 on 3 tournament for players ages 13+. Registration is $100 per team of 4 players. Space is limited so sign up now!
Interested in being a sponsor for this event? We are looking for sponsors who are willing to donate any dollar amount, prizes, or samples of your product to help with the tournament. The tournament is taking place July 30th & July 31st 2016. We are also looking for letters of support to include into our provincial grant applications. Click for more information on how you can help support the hopes and dreams of our youth.
Blue Quill Community Survey
Please take our community opinions survey at: https://www.surveymonkey.com/r/WDR926H. Your feedback is important!
Summer Student Jobs
Blue Quill Community League has applied for two summer job positions for post secondary students. If you would like to work on exciting projects like Party in the Park, meet experienced business people, and gain experience with event promotion and execution, it is a perfect place for you. You will be working with set up, advertising and advertising materials such as posters, rack cards, event programs, web pages, social media, and the like as well as tasks like delivery a and delivery schedules. If you are interested, please contact Blue Quill Community League at:
Mail/In Person: 11304 - 25 Ave, Edmonton, AB T6J 5B1
Phone: 780-438-3366
e-Mail: bqcladmin@bqcl.org