News Archive
2016 Outdoor Soccer
Looking to register your child in outdoor soccer? Attend one of our registration sessions to drop off your paperwork and payment:
Wednesday, Feb.17 6pm - 9pm or
Saturday, Feb. 20 from 9am - 1pm
To complete registration, you will need a current community league membership. In addition, please register online at emsasoccerportal.com and then bring your paperwork and payment, along with proof of address and the player's birth date, to one of the above registration sessions. Register by March 1st to avoid late fees.
Visit our soccer page for more information on registration dates, times and fees.
New Zumba and Barre Body Sculpt Classes
New Zumba and Barre Body Sculpt classes are starting on January 19th! No experience necessary - all levels welcome. Please visit our Zumba page for more information or click the button below to register online.
Next Issue of the Blue Grass Rattler is Out!
Click here to read the May-August 2015 issue of the Blue Grass Rattler.
Southwest Community Ski Festival
Join us for the Southwest Community Ski Festival on January 30, 2016 from 11:30 am - 3:30 pm at the Blue Quill Community Hall (11304 - 25 Ave).
Enjoy a free opportunity to learn cross country skiing with equipment from the City River Valley Program Team. There will also be tobogganing, snowshoeing, kick sleds and more, plus free chili, hot cocoa and warm fires.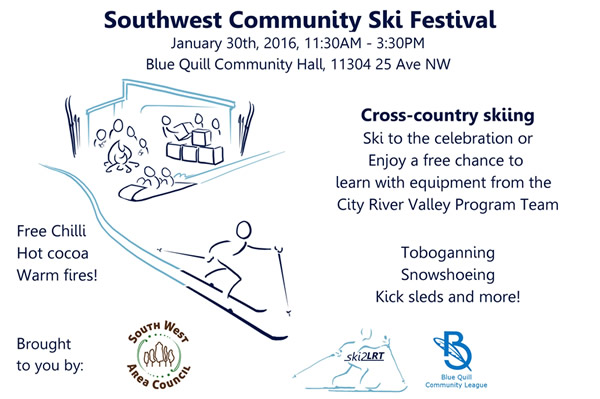 Blue Quill Park Redevelopment
For information on a proposed design for a Blue Quill Community Park, and to sign our petition, please visit: http://bluequill.wix.com/parkredevelopment.