What's Happening in BQCL?
Drop In Craft and Sensory Play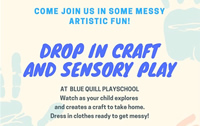 Every Monday and Wednesday, from November 20th until December 20th, bring a food bank donation and join us in some messy, artistic fun!
Drop in Craft and Sensory Play at Blue Quill Playschool!
Watch as your child explores and creates a craft to take home. Dress in clothes ready to get messy!
From 12:30 - 2 pm.
BQCL Christmas Office Hours
Blue Quill Community League will be closed for the Holidays starting on December 25, 2017, and will re-open on January 8, 2018.
Should you need to reach the office, please email bqcladmin@bqcl.org.
Thank you and Happy Holidays!!