What's Happening in BQCL?
Vendor Fair Registration 2017
The Blue Quill Fall Market is being held on Saturday, December 9, 2017, at the BQCL hall from 10:00 a.m. to 3:00 p.m. If you have products that you make or from a home-based business, then this is the market for you. There are up to 24 tables available at this vendor fair and we want to ensure there is a variety of products so only one vendor per company will be permitted - first come, first served.
If you would like to reserve a table, download our vendor application.
If you have any questions about the event or the status of your registration, then please contact Kathryn at bqcladmin@bqcl.org or leave a message at 780-438-3366.
Drop In Craft and Sensory Play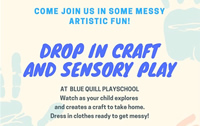 Every Monday and Wednesday, from November 20th until December 20th, bring a food bank donation and join us in some messy, artistic fun!
Drop in Craft and Sensory Play at Blue Quill Playschool!
Watch as your child explores and creates a craft to take home. Dress in clothes ready to get messy!
From 12:30 - 2 pm.